The provisions of the RRO mean that nearly every business and residential block of flats in the UK need a Fire Emergency Evacuation Plan (FEEP). But some blocks will need a formal evacuation alert system (EACIE) to support these plans too.
The requirement for businesses and building owners to undertake a fire risk assessment and develop an evacuation plan based on this assessment, is outlined in the RRO.
Who does the RRO apply to?
As the London Fire Brigade point out:
"The Order applies to almost all buildings, places and structures other than individual private homes – that's individual flats in a block or family homes. Other places covered by the Order include shared areas in houses in multiple occupation (HMOs), blocks of flats and maisonettes."
In other words, it's not just commercial premises who need to have a plan for safe evacuation of occupants, but those with responsibility for residential blocks, too.
What will your FEEP look like?
One of the outputs of your fire risk assessment should be your Fire Emergency Evacuation Plan.
Your plan needs to be in writing and it should include the required actions that employees, occupants and visitors should take in the event of fire. It should cover:
How building occupants will be alerted to the fire and told to evacuate (fire alarms, evacuation alert systems)
Evacuation protocols - will evacuation be triggered by a fire alarm for simultaneous evacuation across the building or in a phased way by an EAS? How will stay-put advice be applied?
Where firefighting equipment is positioned throughout the building
Where escape routes will lead evacuees
The provisions that are in place for occupants, employees and visitors with special needs
The final assembly location for building evacuees
Where specific isolation points are within the building
What type of training is needed for occupants and building managers to ensure the plan will work
Your building, then, needs to have appropriate alarm systems, emergency signage, clear escape routes and well understood muster points. The FEEP ensures that safe and orderly evacuation can happen whenever it is necessary. It ensures that appropriate training and communication takes place to respond to new risk assessments, keeping these plans up to date and workable.
Anything else?
Yes. Businesses will need to create Personal Emergency Evacuation Plans (PEEPs) for disabled, vulnerable and impaired workers. And it's widely anticipated that owners of residential blocks will soon be legally required to have PEEPs in place for their vulnerable residents, too.
Some building owners need to support more flexible fire evacuation plans
The complexity of evacuating residential buildings can vary according to lots of factors including the size and general condition of the blocks in question.
For many years a 'stay put' policy was standard practice for fire safety in high rise residential blocks, but Grenfell has changed many people's thinking around that. It was thought that occupiers could shelter more safely in their fire-rated flats whilst the blaze was extinguished, rather than risk the chaos of a mass un-coordinated escape.
But Grenfell showed that the containment potential of individual flats has often been compromised by external cladding and bodged renovations, making 'staying put' a potentially dangerous option.
In answer to this many have realised evacuation plans need to become more flexible and responsive to the specific circumstances of each block and each emergency. And that's where an EACIE can help - and why they are likely to be legally required across the UK soon.
What's an EACIE?
EACIEs (Evacuation Alert Control & Indicating Equipment) are designed to facilitate the most appropriate evacuation plan once the fire service (FRS) have evaluated conditions at the scene of an emergency. They are a powerful tool to help the safe evacuation of any building, but in very tall blocks it's essential to contain the potential for dangerous and disorderly escape.
Who needs to fit an EACIE?
EACIE (Evacuation Alert Control & Indicating Equipment) are being fitted in blocks throughout the country as a response to the lessons learned from Grenfell. In fact, their use is recommended by the authorities across the UK. Not only that, it's now the law in Scotland for residential buildings over 18 meters to be fitted with an EACIE. Their use is also likely to be mandated in high rise buildings across the country in the future.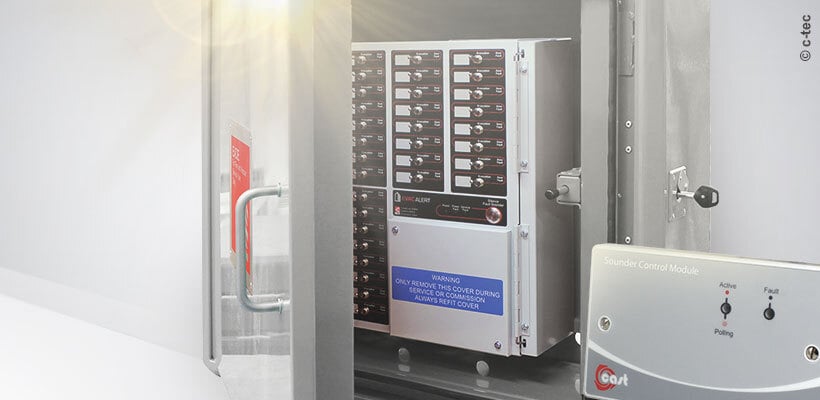 What does an EACIE need to do?
EACIEs must work independently of fire detection systems
The alert panel needs to be housed in a security-rated enclosure with a patented BS EN 1303-compliant lock and key mechanism to prevent vandalism and ensure the Fire Brigade's exclusive access
They should be accessed and manually operated by the FRS when emergency evacuation is required
The layout of the EACIE is required to be displayed in a vertical arrangement to resemble the floor layout and make the system more intuitive to use
The EACIE should sound alarms fitted located inside flats to trigger evacuation on a zone by zone or floor by floor basis
Their fitting is governed by British Standards (BS 8629:2019) for continuity and uniformity reasons; they must look and operate in the same way so that any member of the FRS who appear on the scene can easily use them
Alarms are not recommended to be voice alerts (since English may not be every occupants' main language)
Once an EACIE is in place, understanding maintenance and testing requirements is vital to keep the system in good order and ready for use in the event of the worst happening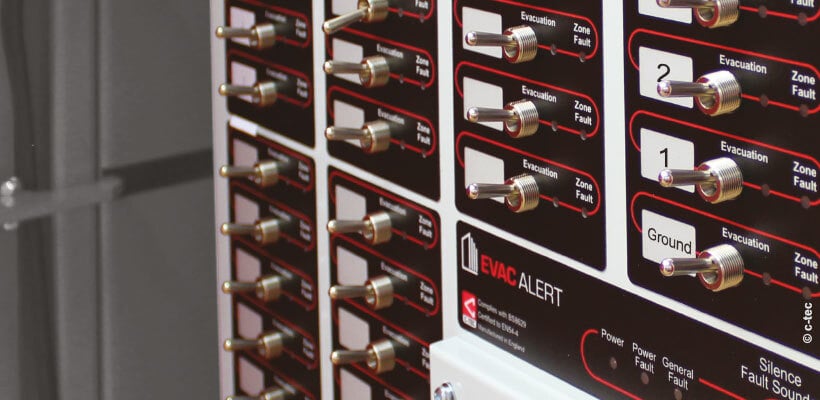 As you are risk assessing and preparing your fire emergency evacuation plans you should be considering your responsibility (or likely future responsibility) to fit an EACIE, too. Installing an EACIE according to the requirements of the standard is a complex proposition and you'll need dedicated support to maintain it properly throughout its lifetime.
An EACIE can give you and the FRS ultimate control over the way a building is evacuated in the event of complex and time-critical emergencies. It can give you peace of mind that your building occupants will be able to follow your evacuation plan in the safest and most orderly way possible. And as we've noted here, for some buildings operators it is likely to become a legal requirement that you cannot avoid.