The Covid pandemic has accelerated the need for radical change in the way we work and the buildings in which we work. This can't be achieved by making small tweaks or improvising changes to existing layouts - it will need more sustained thought and a flexible approach to technology.
Before Covid struck businesses were already responding to urgent calls for more flexible and activity-based working. People wanted to work when and where was most convenient for them and office fit-outs were responding to these needs. Spaces were becoming more flexible and accessible to support increasingly 'nomadic' workers. At the same time, smarter access and presence sensing technology was helping increase the security of our spaces, while making them more responsive to changing occupant needs.
The new normal - a new complication
Covid has given an added impetus to many of these trends. However, it has added other long term considerations to the way workplaces need to be designed and fitted out. Global pandemics have always been thought of as a once in a century event. In the future, we're told they'll become more frequent. Just as in the last twelve months we've been used to periodically ramping up and relaxing virus control measures, our buildings need now to be flexible enough to respond to these threats as and when they arise.
Responding to the changing needs of our people
Now more than ever, we need to fit out offices to be shaped by the changing needs of the people who will use them.
With this in mind, if we want to bring people safely back together in the office we'll need to offer an ever more frictionless experience that is secure, safe and trackable. From the way they open doors, to the way we manage their occupancy and communicate with them as they move between spaces.
In doing this, we'll help companies make up for the lost commercial time of the epidemic, facilitating faster access through your real estate and delivering more value to our people.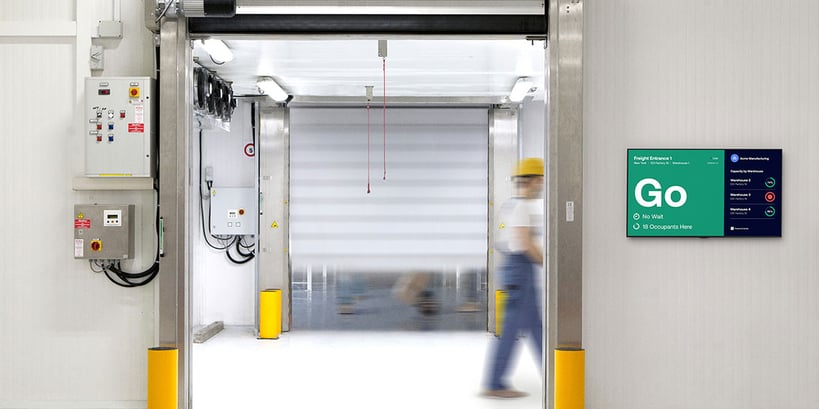 The contactless office
From the moment workers arrive at the office there are potential obstacles in the way of them getting to work safely and efficiently. Contactless tech answers many of the requirements for agile spaces, particularly in a post pandemic world.
Clunky keyfobs and card entry solutions are already being jettisoned in favour of touchless (contactless) access via mobile or biometric recognition. Post-Covid we need to think about developing more secure and reliable 'contactless pathways' throughout the whole of the office.
These include:
Facial recognition and motion sensors to open interior doors
Contactless bathroom access - using gesture and foot control
Contactless elevators - called and activated by mobile or 3D Hand-Tracking technology ('spatial interaction')
In the UAE, Arjun Kaiker's team working on the Bee'ah waste management company's building in Sharjah, UAE, are looking to automate nearly every aspect of occupants' interaction with their workspace:
"We've looked to eliminate direct contact with communal services, right from the street to the workstation… blinds, lighting, ventilation and even ordering a coffee will be controlled from your phone.
The design detail needed to understand contactless journeys through the office is considerable, not to mention the way the technology needs to be sited and calibrated to work effectively.
What about the way tech needs to be built into the walls, floors and ceilings of our spaces to deliver the right frictionless finish? Security and presence control needs thinking about right from the beginning of a fit out project.
Occupancy management
Understanding how people are using spaces in real time will help us be more responsive to their needs.
Supporting our journeys throughout the contactless office will be sensor technology positioned in critical locations to track data and help manage our safe passage through the workplace .
It is this technology that can sense how many people are on a floor or in a room, and where more ventilation is needed or cleaning might be required. And it's critical to changing our buildings into more proactive and protective spaces:
"While in the past we placed sensors to protect and operate our infrastructure, now we are extending that to make our environment anticipatory, interactive and caring. Using smart IoT sensors can significantly contribute to secure business continuity during a pandemic."

IN Magazine Nov 2019
Better communication and control
Used together with the apps on phones, proximity beacons and digital displays this occupancy data can be used more effectively to control communications and manage activity within our buildings.
Some companies are using apps on workers' phones and bluetooth beacons to send messages to the occupant to manage the use of space. They're telling workers directly when parts of buildings are overcrowded, where other meeting rooms are available and even if they're breaking social distancing requirements.
Digital screens are also being used to support way-finding within office buildings. These screens are being updated with information highlighting occupancy hotspots, informing users of floor closures and other real time issues.
Meanwhile, occupancy data pulled from people counting tech are triggering spaces to be locked down until sufficient people have exited, ensuring and automating compliance to keep businesses more agile.
Better H&S management
In the Post-Covid world technologies are also emerging to address a new imperative for rapid and rolling sanitisation of workspaces. The availability of sensor data will help monitor when meeting rooms and communal spaces need to be cleaned or replenished with wipes and other supplies. However, some businesses are also exploring the potential for deep cleaning activity with UVC disinfecting lighting as part of a revamped air hygiene strategy. There are complexities to implementation, though:
"Safety has to be paramount when using UVC lamps; systems must be equipped with sensors and controls to ensure they only operate when people and animals are not present. 'There should be no exposure to human skin or the eyes; if you are going to irradiate a room, you've got to do it in a way that ensures no-one is present when the UV lighting is on"
Making UVC cleansing part of an integrated approach to occupancy management is going to require creative integration between systems. Sensor technology should flag the need for cleaning. Access control should ensure rooms are free of occupants and locked down for entry, while BMS software could trigger the UVC routine itself.
The Post-Covid opportunity to deliver cleaner, more secure workplaces that respond in real-time to user needs, is going to require advanced technology and installation expertise to realise.
More than that, it's going to require imagination and forward planning to make this realisation seamless and intuitive. Designers, clients, fit out teams and security experts will all need to work together to deliver safer spaces that are not only functional, but a pleasure to inhabit. Without that kind of customer-led thinking, the return to the office may be short-lived and unsuccessful.