What are the different types of physical access control systems on the market today and how can they help you build safer, more secure and intuitive workplace experiences?
What is a physical access control system?
Physical access control systems are used by organisations to authorise or deny entry to their premises. They are the computerised systems that operate your turnstiles, speed lanes and doors; managing the secure movement of personnel across your estate. They are required to keep intruders out, but in the modern office they are also helping to create more frictionless user journeys and safer environments for those who are authorised to be there.
The evolution of access control
Access to buildings was once controlled by physical keys, with entry protocols administered and enforced by real-world security guards. Now physical access control is digitised and automated - with credentials loaded onto keyfobs, swipe cards and mobile phones. The latest systems can also be operated by fingerprint, iris scans and facial recognition technology. Card readers, scanners and cameras placed at entry points can all authenticate different kinds of user credentials - allowing companies to monitor, allow or deny access to different parts of their estate at a granular level.
Physical access control systems can:
Lock down all/parts of buildings in the event of emergencies
Report on occupancy and locations of individuals in the event of an evacuation
Control entry to floors and rooms in event of overcrowding
Lock out individuals not wearing masks or with elevated temperatures
Support messaging via mobile to assist wayfinding and emergency contact
However, all this depends on the level of flexibility and control you have over your technical infrastructure - and the level of confidence you can have in your identity authentication methods.
Modern access control: on premise or cloud based?
How access control systems are installed and maintained can have a huge impact on their efficiency and scalability Legacy entry systems typically had their own complex and entirely separate wiring requirements, but modern networked and cloud solutions are much more flexible and integrated.
These days access control systems are usually configured in one of two ways:
Network-based (on premise) access control
Network door controllers and access control systems run on the IP network already present in your building, powered by a physical server on-site. In this scenario door controllers can be connected to your existing IP network either via wires or wirelessly.
New doors, entrance points and hardware can be integrated with ease, making solutions more scalable and powerful. These systems are typically administered via interfaces installed on networked computers in your office, but apps for remote access are increasingly common.
Cloud based Access Control
Cloud based systems aren't run from a single on-site server. Instead, the door controller uses the internet to connect to the cloud where credentials, and access logs are hosted. These systems are managed via secure, highly flexible applications that can be operated by laptop, mobile or tablet from anywhere around the world.
Cloud based solutions take the cost and hassle of hosting and maintaining networks away from a business. They are built to support seamless integration with the latest hardware and software such as sensors, camera tech, building management and security systems. Their reputation as an insecure or unstable
Access control systems - authentication methods
Card and fob based access control systems
Proximity key fobs and cards use RFID technology to unlock entry points. When they are held next to a card reader, credentials are checked against the access system database. If the ID is recognised and valid the door is unlocked. Different makers' cards can be used with different readers so companies have a degree of flexibility when they are administering the system.
RFID cards have tiny receivers or transmitters built into them to communicate with card readers. 26-bit is the industry standard, with 125kHz and more recently 13.56MHz being the most secure and commonly used frequencies. Businesses manually encode each card with unique credentials for each user.
However, smart cards can do a lot more than simply let people in and out of your premises. They can be set up cashless vending and also for printers, scanners and copy machines to ensure they're only used by authorised staff.
Security considerations
A card or fob cannot verify the identity of the individual. It can't check the cardholder is who they say they are - unless some form of two factor authentication is deployed. Because of this cards and fobs are often shared between workers who have lost theirs or left them at home. Many workers are lax at reporting card or fob losses, and businesses can be equally lax at deactivating cards appropriately.
The average 40,000-person company loses 10,378 key cards/fobs per year. SOURCE: Proxy's 2019 Physical Security Trends Report
Entry cards and fobs that are not properly encrypted can be easy to clone. This can make them an insecure option unless tightly controlled. All this can make them expensive and time-consuming to administer.
It takes a physical security employee an average of 12.2 minutes to replace a lost card/fob, not to mention the additional cost of replacing lost cards. SOURCE: Proxy's 2019 Physical Security Trends Report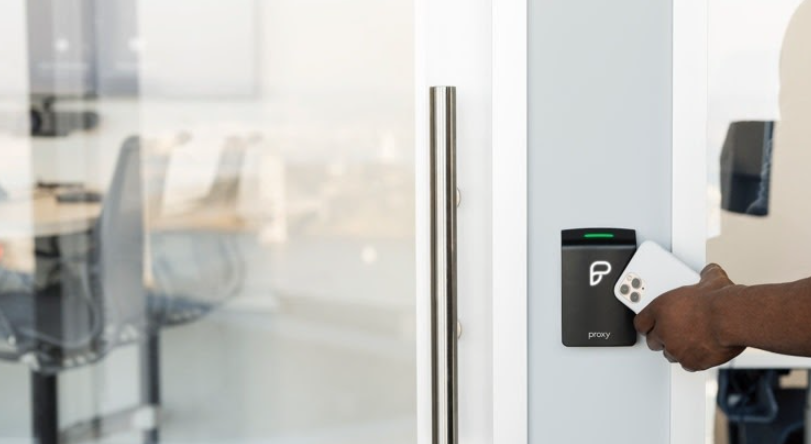 Mobile access control systems
In many ways mobile is the ultimate device for access control. Mobile devices are rarely shared, rarely left at home and are with us practically wherever we are.
Not only this, but mobiles are normally password protected (and often secured with face or fingerprint recognition) so the chances of a theft resulting in unauthorised use are slim.
Mobile access control uses apps powered by BLE (Bluetooth) or NFC (Near Field Communication) to operate doors, turnstiles, elevators and other access points within a secure building.
Once set up within an organisation there are immediate efficiencies companies will begin to see:
Mobile credentials can be set up instantly by admin anywhere in the world
Workers can download mobile and wearable apps for entry access
App set up details can be pushed to workers via email or SMS
Access rights can be configured by building and entry point for each individual
Access rights can be added to and rescinded in seconds
Access rights can include touchless elevator calling and operation
Supports easy set up for time limited visitor access.
They can also be used for two way communication to send messages to people within a building, for general wayfinding or emergencies.
For those businesses shifting from card to mobile based access - readers can be installed which support mag strip, proximity and chip-based smart cards as well as mobile credentials.
Mobile access tech powered by Bluetooth is well suited to the need for contactless entry in the post-Covid world.
Biometric access control systems
Biometric access control, once the stuff of science fiction is coming down in price and increasing in reliability. Finger print, palm and iris scanning, as well as facial recognition solutions are all now available as mainstream access-control products.
Biometrics offers the highest level of identity authentication of all access control methods, since these features are unique to each individual. They can't be cloned, forgotten or given to others, so promise a truly secure and frictionless access experience.
Biometrics supports temperature screening for Covid safety
The use of cameras for access control has also been helpful during the pandemic, and not only because they are a contactless solution. Thermal imaging technologies have been used to screen worker's temperatures as part of each credential check. Having this kind of technology available on demand could help us ramp up virus controls more quickly and efficiently in the face of future outbreaks.
How accurate is the technology?
Facial recognition access control has also improved considerably in response to the increased use of facemasks in the last year. New algorithms have been developed to counter more complex recognition challenges. This, together with machine learning continually improving accuracy has accelerated the processing speeds of many systems. Solutions are routinely capturing facial features in a matter of seconds as individuals pass through entry points.
Barriers to adoption
Biometic access control is more expensive and complex to set up than simple card based and mobile solutions. Lighting conditions and the angles of cameras have to be right to collect optimal images and prevent mistakes or failures in recognition.
The challenge around collecting and using biometric data is also considerable. Careful consideration needs to be given to how you gain the consent of workers and visitors to use and store this information, plus also how you go about capturing the data for use in the system in the first place.
What to look for in an access control system
Many businesses acknowledge their current systems are outdated and inflexible. When you are looking for an access control system you should consider the following for a more scalable and sustainable approach:
Level of authentication required?
What level of security identification do you need? As noted cards and fobs are frequently shared. Mobile and biometric systems can offer more certainty about identity. In times of increased security and viral threats - the need to positively identify individuals before they are allowed to enter your premises is growing.
Usability -
How easy is it to manage the system? Having all the sophisticated ID technology counts for nothing if you can't use it to quickly and easily monitor and control access around your real estate.
set up new users/rescind access rights
report on entry/exit activity,
lock down buildings,
control wayfinding messaging via mobile or display boards based on activity
Integration and scalability -
You need flexibility in your infrastructure, to add doors, entry points and even buildings to your access control dashboard as required. As new technology emerges you will also want to add new hardware like sensor technology to enrich the data at your disposal, plus connect with other Business Management Systems when needed. Choosing systems with open APIs that let you scale and connect to new technology, will be key to future proofing an access control design.
And to finish
What is the user experience you need to provide? Every office fit out has different priorities. Security and now Covid safety have become top concerns for workers and businesses. Luckily, the kind of access controls modern technology can impose on a business are highly effective - from biometric checks, fever screening and system lockdowns. However, businesses need to balance the aesthetics and usability of their workspaces with all these potential security integrations.
You should choose the system and the fit out partner who can help you build security around the needs of your people for a welcoming and frictionless experience of their workplace.