The age of agile working is here. Frictionless movement and collaboration across your real estate is vital for the smooth running of your business. However, the need for security and tighter occupancy management is greater than ever. Mobile access control can be a powerful way to deliver on these competing demands
What is mobile access control?
Mobile access control typically entails BLE (Bluetooth) or NFC (Near Field Communication) enabled smartphones using apps to open and operate doors, turnstiles, elevators and other access points within a secure building. Mobile credentials can be held in smartphones, tablets and even wearables to help fast and frictionless movement of authorised workers though the workspace.
Mobile access control solves a perennial problem
According to one recent survey 17% of workers lose at least one card or fob every year. The extent of reported and unreported card losses represent a major security risk - and a huge waste of time and money.
Whether it is delivered via BLE or NFC, mobile access control can solve many of the major headaches of modern security and facilities management.
The ongoing expense of supplying and issuing physical key fobs or cards
The physical distribution of cards and replacements
The risk of workers sharing cards, tailgating and compromising security
The danger of lost or stolen cards remaining in circulation
But mobile access control answers is much more than an opportunity to streamline your day to day administration.
A solution for more secure, agile working
The move to more agile working increases the need for more flexibility in access control. Office space is now being used in a fluid way throughout the day. People need frictionless access to group and regroup in different settings.
Many businesses are now considering wholesale changes of real estate use, shifting to hub and spoke office models or even 'virtual first' workplaces. Offices are becoming collaboration and meeting hubs rather than places for daily, routine work.
As a result, access requirements are becoming less predictable and more difficult to provision and police. With more fluid, agile office setups, it is harder to spot intruders, grant flexible access to those who need it, and track occupancy for safety and security purposes.
Cloud-based mobile access control
With cloud-based mobile systems, the whole administration process can shift online, granting centralised access control for individuals across a whole network of buildings:
Mobile credentials can be set up instantly by administrators anywhere in the world
Workers can download mobile and wearable apps for entry access
App set up details can be pushed to workers via email or SMS
Access rights can be configured by building and entry point for each individual
Access rights can be added to and rescinded in seconds
Access rights can include touchless elevator calling and operation
In addition, the complexity of granting access to third parties and managing their visits can be handled virtually:
Time limited and location restricted access can be easily granted to visitors
Visitors can download apps for temporary mobile access
Visitors can receive orientation advice on arrival 'in app'
Hosts can be instantly notified by email or SMS when their visitors arrive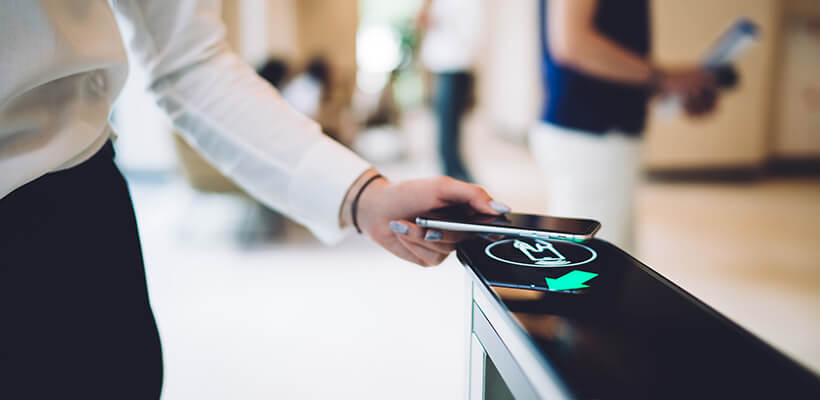 Occupancy management and communication
Mobile access control systems can pave the way for other innovations in occupancy management.
The use of mobile access offers the opportunity for people tracking and two way communication that can enhance user experiences of workspaces, as well as making them safer and more secure.
In the midst of the Covid crisis some offices are using their systems to send notifications and messages direct to workers' and visitor's mobile apps before they arrive at a building, asking them to self-report on their health to pre-screen for Covid symptoms.
Mobile access control systems integrated with thermal imaging cameras are being used to identify individuals with raised temperatures as they arrive, denying them access at reception and advising them what to do next.
Presence detection
Mobile provides options for real-time location tracking via Bluetooth and Wifi for those with apps downloaded and switched on.
With workers and visitors connected in real time to the business via mobile, the location based capabilities of their devices can be levered to:
Provide better wayfinding for the navigation of workplaces
Help occupants find free desks, meeting rooms etc
Control light and heating in un/occupied areas of buildings
Control and trigger cleaning activities when meeting rooms are vacated
Deliver more data to organisations about user behaviour to drive innovation
As access and movement is monitored via apps, messages can be sent to users (or groups of users) to ensure physical distancing is being observed, control potential overcrowding in common areas, and oversee safe evacuation in the event of emergencies.
Moving to mobile
There is also potential for long term saving when switching from physical cards and fobs. Businesses can reap immediate efficiencies through ditching the administration and cost of card distribution and user management. These cost benefits increase, particularly when businesses operate a BYOD (bring your own device) policy.
However, as noted, older devices may not support the tech required for mobile access, and there may be privacy concerns for some around using personal devices in this way. These considerations may be holding some businesses back from making this strategic move.
The good news is that hybrid readers can be installed which support mag strip, proximity and chip-based smart cards as well as mobile credentials. This hybrid approach could enable organisations to transition over time to a mobile-only solution when the time is right.
On the other hand, there may be concerns about the cost and disruption of replacing existing readers which at present are only configured only for card access. There are options to upgrade existing card readers to support mobile access as well, which you could explore with your security provider.
Future-proofing your approach
Other companies may be looking to the future and becoming concerned about further fragmentation of their access control technology. When you are considering your options, therefore, the interoperability of the hardware and software solutions you choose should be a major consideration.
How card readers, camera systems, occupancy sensors and apps can all talk to each other and feed their data into single platform building management and security software should be top of mind from the beginning of any fit-out project.
Mobile access, wireless locks and cloud based access control open up myriad opportunities for creating safer and more frictionless workplaces. A security partner with the right expertise will help you build a solution that is robust, integrated and scalable. They will also be able to advise on the finish and attention to detail that will keep adding value to the way you work.