For smaller buildings, tried-and-tested detection and alarm systems are enough to protect lives. However, fire safety is far more complex in larger buildings. High-rise buildings need to adhere to demanding regulations and have a comprehensive fire safety strategy, which may include a building evacuation system. Read on to have all your questions answered about building evacuation systems.
What is a building evacuation system?
Fire detection devices are a legal requirement in many types of commercial and industrial buildings; they are an essential part of fire safety as they provide early warning alerts. However, they should not be confused with evacuation systems or Evacuation Alert Control Equipment (EACIE).
Evacuation systems do not detect fires. They are mainly required in high-rise residential buildings and used by the Fire and Rescue Services (FRS) to coordinate an evacuation at the scene of an emergency.
Depending on characteristics of the incident (including for how long the fire has been active), the FRS will either issue a 'stay put' order or coordinate an evacuation. To avoid a mass, panicked exodus, the FRS needs to be able to issue instructions to residents on each floor.
Building evacuation systems allow the FRS to safely and effectively carry out targeted evacuations by issuing an evacuation order to floors or areas in order of importance. For example, if there is a fire on the 20th floor, this would be the priority--followed by the floors above and below--and then the rest of the building.
They are used in buildings that are deemed sufficiently robust enough to withstand fire for the time in which the authorities can safely evacuate every resident.
Do I need a building evacuation system?
Currently, the only buildings that legally require building evacuation systems are new blocks of flats built in Scotland that are taller than 18 metres.
However, this does not mean that building owners can relax. The Grenfell Tower Inquiry strongly recommended that building evacuation systems be fitted in both new and existing high-rise buildings over 18 metres tall--across the UK. The Inquiry also suggested that 18 metres is an arbitrary height and should be reduced to 11 metres--the safe working height of first-response fire tender ladders.
The government is committed to fully implementing the Inquiry's recommendations and is currently working with the National Fire Chiefs Council (NFCC) on an Evacuation Alert Systems project. This makes it even more likely that further legislation will be passed in the near future.
There are over 100,000 buildings in the UK above 11 metres and so there is an opportunity for forward-thinking building owners and managers to take the lead, look beyond potential compliance issues, and ensure the safety of their residents.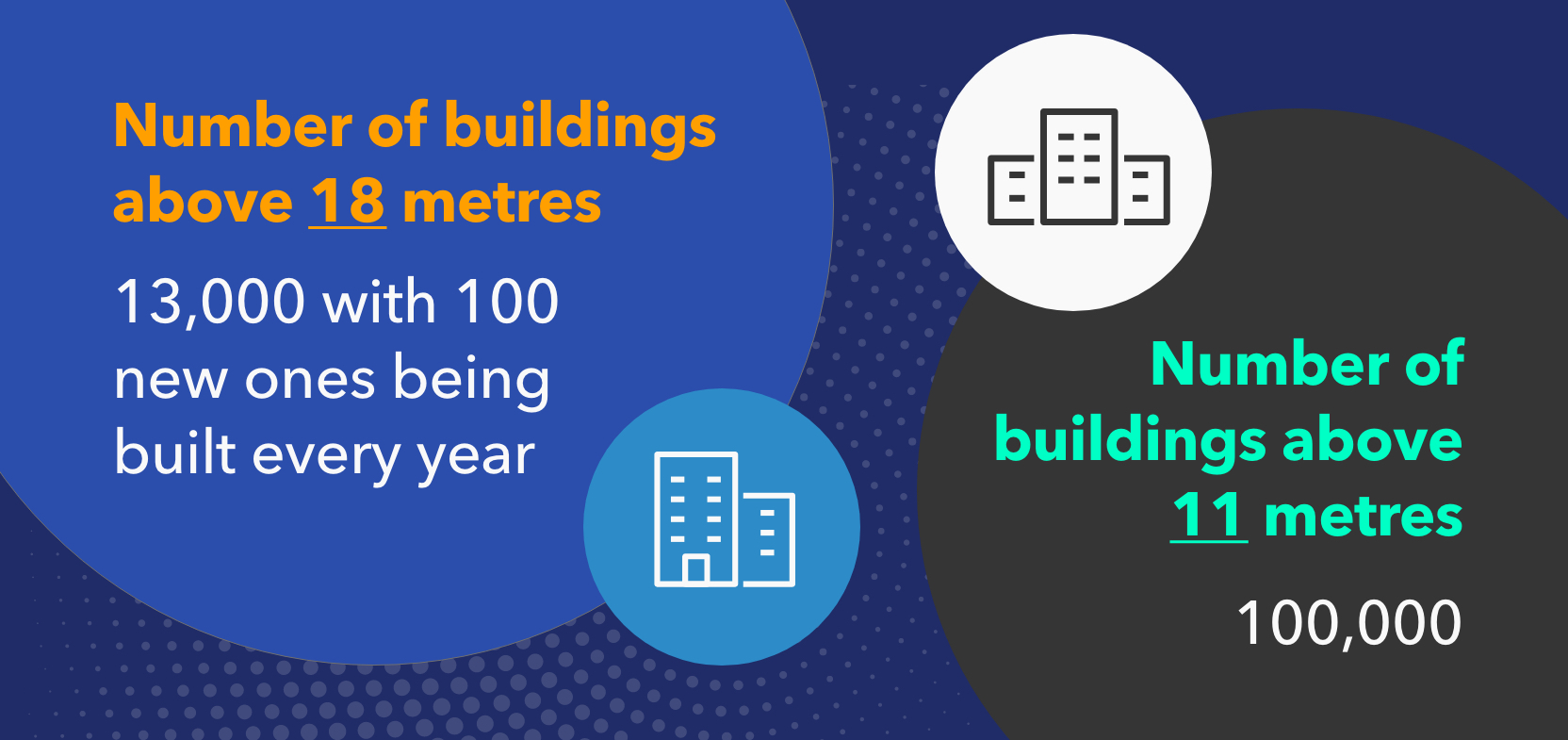 What is the regulation around building evacuation systems?
Fire safety and building safety has recently undergone a significant rethink. This was due to several high-profile fires including the Grenfell Tower Fire and the Cube fire, as well as incidents such as the closure of King's College Hospital's new £100m intensive care unit in 2020 after a fire safety inspection warned the unit was unsafe.
The Regulatory Reform Fire Safety Order 2005 has been amended to include evacuation procedures. Additionally, the Fire Safety Act 2021, which became law in April 2021 imposes new obligations on anyone owning or managing a building containing more than one home.
Of particular relevance to evacuation systems is BS 8629:2019, which governs Evacuation Alert Systems (EAS) and fire evacuation plans. The standard set out the way that evacuation systems must be installed and maintained.
Fire safety companies must have an in-depth understanding of the standard and make sure a building is compliant when installing an evacuation system as every evacuation system should look and operate uniformly. The FRS needs to be able to enter any building and know how to use the equipment for the system to be effective.
How does a building evacuation system work?
The evacuation system is housed in a high security cabinet that is able to withstand a deliberate attack--it should be certified to STS 205 BR2. This is important as FRS need to be confident the system will always be fully operational. The system is installed inside the building near to the fire and rescue access point. Each system has a patented lock that complies with N1303. It can only be opened with copy protected keys, which are already carried by FRS.
When arriving at the scene of a fire at a high-rise building, the FRS will assess which floors or areas are most at risk. If they decide the correct strategy to evacuate, they will flick a switch in the evacuation system, which, in turn, issues an evacuation alert to the desired floor or area. Once the evacuation is complete, they can then issue warnings to the following floors or areas. The evacuation system shows the FRS which floors have been evacuated through rows of LED lights.
Evacuation systems can use either wired and radio technology. Radio systems are more cost-effective for retrofitting into existing buildings and wired systems would be more cost effective for new builds.
What evacuation systems are on offer?
EVAC-ALERT© by C-TEC
C-TEC's BS 8629: 2019 compliant evacuation alert system is specifically designed to assist FRS evacuating high-rise residential buildings. It is British-built and comprises a range of evacuation alert panels, single and multi-way flat interface units, self-testing evacuation alert sounders and Equality Act-compliant visual indicators, and vibrating pillow pads.
EvacGo by Advanced
Advanced's BS 8629 compliant solution reflects each individual building's evacuation zones. The panels are available in 8, 16, 24, or 32 'fire-fighter evacuation alert area' variants and are expandable from 1 to 4 loops – or even further.
How certifications should the systems adhere to?
Although evacuation systems are not covered under the Construction Products Regulation (CPR), third-party product approval is not a legal requirement. However, BS 8629 does recommend that the equipment complies with EN54-2.
In terms of Fire Safety Providers' future compliance, third-party certification, such as the Kitemark Third Party Certification for Evacuation Alert Systems is likely to be considered an advantage. This certification complies with the requirements of the BAFE SP207 scheme for the design, installation, commissioning, and maintenance of Evacuation Alert Systems.
Each EACIE should follow the recommendations of BS 8629, but as each building is different, building owners should consult with fire safety companies as some level of customisation will be necessary.
Conclusion
The provisions of the RRO mean that nearly every business and residential block of flats in the UK need a Fire Emergency Evacuation Plan (FEEP).
However, it is likely that future legislation (almost certainly enshrined within the Draft Building Safety Bill that is currently going through Parliament), will require evacuation systems to be fit as standard in new high-rise buildings and retrofitted in older buildings. Consultation with a fire safety company would be helpful for advice on future regulation as well as guidance on what evacuation system could be the best fit for your building.